Posted by
Nyx
on Dec 1st, 2012 in
Writing
|
0 comments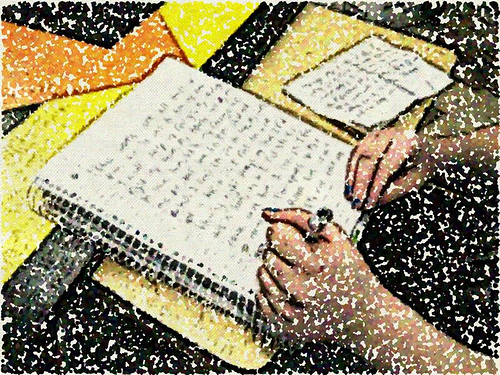 Another NaNoWriMo has come and gone. Participant emotions are all over the place. I've seen elation at first wins, sullen silence at not winning, surprise at come-from-behind wins, and even one of my NaNo buddies is surprised at winning before another NaNo buddy. It's kind of like the end of a giant highly anticipated sporting event, except for the athletes and the team rings. Though, I suppose there isn't much of a difference. The team rings could be the participant/winner icons and the athletes are just of a different variety–less physical, more mental.
I'm sad to admit that, once again, for the fifth year in a row, I didn't get that purple winner's bar. I'm okay with that, though. Why? Because I've seen myself improving. While my word count didn't total anywhere near last year's (23,427 compared to this year's 18,658), I had a full month of stick-to-it-ness. Last year I crapped out halfway through on the 16th, but this year, with the exception of a few really bad no-word days, I managed to keep those bars rising right up until the eleventh hour. Previous years I didn't even break the 3,000 word mark. Compared to all that, this year was a marked improvement.
What I consider even better is that I have a story that I want to finish. Right now I'm stuck in the scenes, getting them in my head randomly and out of order (normal for most writers), but I've found that Scrivener has helped me out a lot with that problem. I don't feel overwhelmed with dozens of Word files in my NaNoWriMo folder, or the one long document where I have an irksome amount of blank pages just so I can see where things are divided. Since my project last year was to novelize my script project for school, I had things already pretty much written then. However, Scrivener really helped me work on the from-scratch project I started this year. However, this isn't a software post, so I'll move on. Hmm… A writing software post. Now there is an idea!
Ahem!
The best thing about this year's NaNoWriMo? Even though I lost, I still feel good enough about the work I did that I want to take part in Camp NaNoWriMo. As I was working through November's challenge, I noticed the days I didn't write or couldn't bring myself to even open Scrivener were the days I was feeling really depressed. I know me well enough that I'll never get rid of days where I feel depressed, but I also couldn't help but wonder if the time of year was making it easier to fall into that "meh" pattern. So, a few days ago, I decided I will take a crack at Camp NaNoWriMo to see if maybe I can reach that 50k word goal.
So, hopefully I might have inspired you, dear reader, to participate (or participate again) in next year's National Novel Writing Month. Or, maybe you'll join me this coming summer at Camp NaNoWriMo! Either way, the only way to finish a novel is to just keep writing.